Breaking News:Media reports on Ivory P trying to connect him to murder of girl in Beaumont Hotel.
Well like clock work the local channel 12 news under the main stream media ABC umbrella is on their job like clock work. They do a report on Ivory P and they did exactly what I said in my last video. One they bring up his criminal history which is minor and charges were dismissed. 2 they had a black news reporter deliver the bad news story. Never fails. Never fucking fails. Just read their head line. "Beaumont Rapper killed in police chase had criminal record." Thats so they can discredit the man any way they can to justify his murder. That man did not pull out a pistol and try to shoot it out with the police. Cut the crap….. Michael Maroy Channel 12 news report below. Watch all the videos below. Breaking News: They are now trying to connect Ivory p to the murder of a girl in a Beaumont Hotel.

Beaumont Rapper killed in police chase had criminal record"
BEAUMONT – The Beaumont man who was killed after leading police on a high speed chase from Jefferson County to Baytown on Tuesday was a local rapper who had been in trouble with the law before.
Ivory C. Pantallion,36, of Beaumont, was also known as "Ivory P" and claimed to be affiliated with UGK Records.
LISTEN | Beaumont Rapper Ivory P's YouTube Channel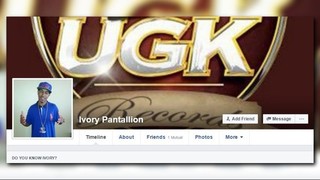 Pantallion also had a criminal record and had been arrested on several serious charges in the past that were eventually dismissed.
In one 2013 case the grand jury chose not to indict him.
In 2011 Pantallion pleaded guilty to "evading arrest and detention with a vehicle." in Harris County.
Pantallion was also featured in the documentary "Cross Country Pimping 2"
WARNING: Video contains graphic language. Ivory P appears at 04:36 into the video.
Pantallion was shot and killed by police Tuesday after he led them on a high speed chase from Jefferson County to Baytown on Tuesday.
He was shot and killed by DPS Troopers and Jefferson County deputies when he brandished a weapon at them after wrecking out in Baytown according to the Texas DPS.
Pantallion was driving a 1998 Mercedes SUV and fled when Jefferson County Sheriff's deputies attempted to pull him over for a traffic violation on west bound Interstate Ten at mile marker 840 west of the Goodyear plant just before 9 a.m. according to a release from the Jefferson County Sheriff's Office.
Police say Pantallion attempted to strike a Baytown Police officer as Baytown Police attempted to stop the SUV with a spike strip when it entered Baytown at Main Street.
Pantallion wrecked the SUV on the interstate near Main Street in Baytown and then brandished a weapon at Jefferson County deputies and DPS Troopers before being shot and killed by the officers.
No officers were injured in the shooting or chase and Pantallion was pronounced dead at the scene according to the release.
Police are unsure why Pantallion fled and are continuing to investigate the release said.